Q: What is your name and wedding date?
Holly Funk,  Nov. 2nd 2013
Q: What was the color scheme/theme of your wedding and why did you choose it?
Deep purple/gray/accents of burnt orange I wanted something different besides the traditional fall colors of red and orange.
Q: What was your favorite part of the wedding day?
The entire day was such an amazing experience. Pinpointing my favorite part would be too difficult. However seeing my husband for the first time and our family and friends as the doors opened was an amazing feeling.
Q: Name one of your favorite images from your wedding day and PLEASE tell why it is your favorite.
If I had to pick my favorite image I would have to choose the picture of me leaning back a little bit with my husband leaning towards me for an "almost kiss." We are both smiling and looking at each other and it's obvious that we are so happy.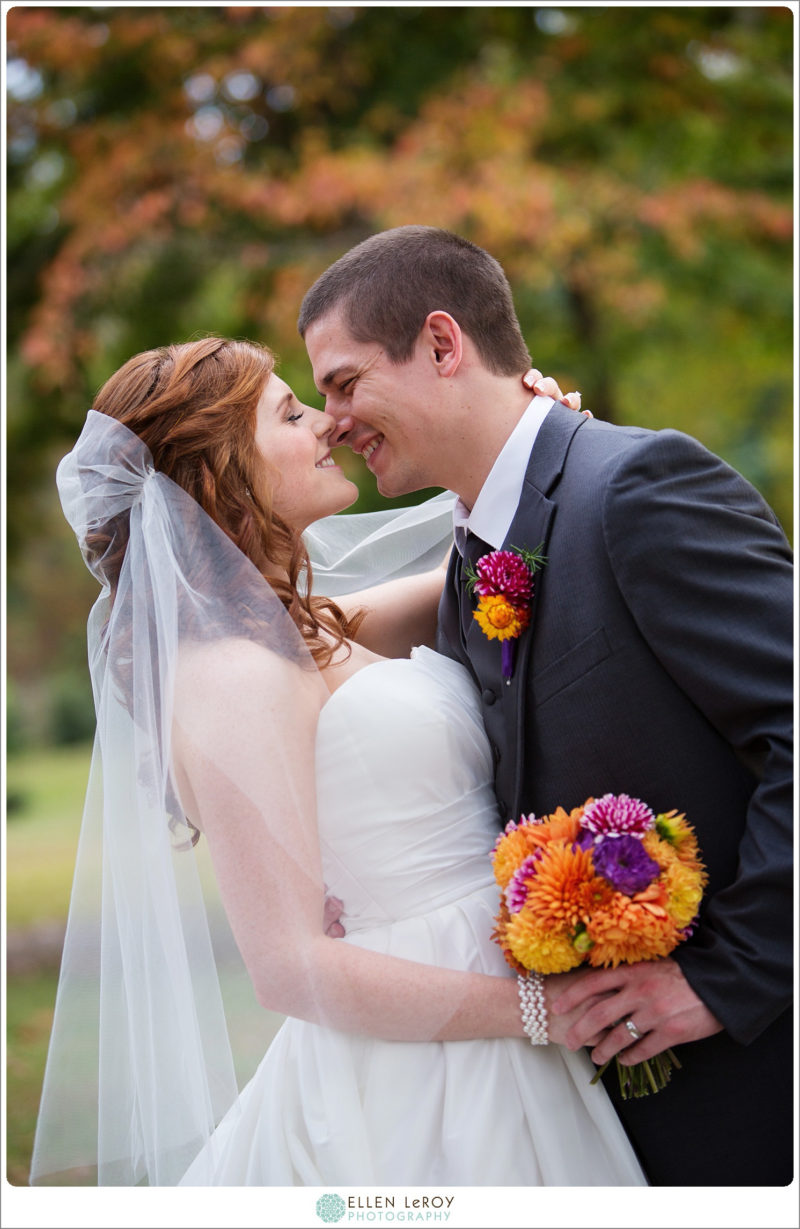 Q: What surprised you about your wedding day?
I was surprised by how effortless things were. Things were taken care of and the day was practically perfect. I expected people to be running around doing things last minute. I owe a lot of that to the people I worked with and hired for the wedding.
Q: What advice would you give another bride/groom planning a wedding?
Weddings can be really tough to plan, especially on a budget. The key is finding reliable people to work with to help. Figure out what's most important to you and spend your money on that. I didn't care much for have my wedding videotaped so it was worth it to find a photographer that really new how to capture each special moment.
Q: Did you do an engagement session or a bridal portrait session? Would you recommend it to another bride/groom?
We had an engagement session but no bridal portraits done. Ellen did get some great bridal portrait photos the day of though. Budget became a factor and I needed to make cuts….unfortunately bridal portraits were cut off of the "must have" list.