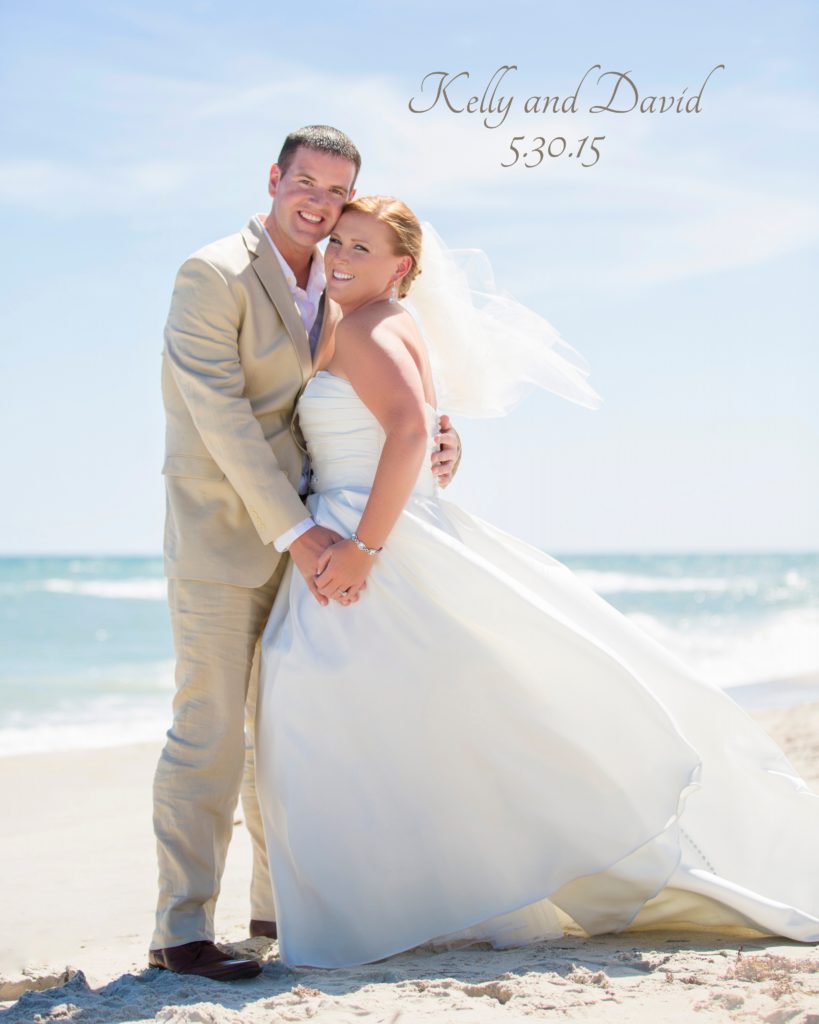 Kelly and David had a nautical themed wedding in the spring of 2015.  They held the ceremony and reception at the
Country Club of Crystal Coast
.  Their color scheme was navy and white and had hints of starfish throughout the theme.  This couple was so full of life and craziness that I was instantly a fan.  No matter what I suggested, they were up for it, so we got some really playful pictures.  Anything less wouldn't have told their story.
Kelly's Reflections of Her Wedding Day
What was your favorite part of the wedding day?  The Crystal Coast has always been a very special place to me.  My grandparents retired down there in the 80s and I have nothing but fond memories spending my childhood summers down there with my cousins.  Now, my parents are full time residents down there. Nothing was cooler than seeing all of your closest friends and family together in your favorite place, celebrating your love.  I remember looking at Dave on Friday during the day and saying, "This is just awesome," as I looked up and down the beach and saw it filled with so many of our loved ones from all different walks of life.
What surprised you about your wedding day?  How fast it goes!  Everyone always says that the day flies by but it really did.  I think you also underestimate the time you'll get to spend with your guests.  I loved having all of our guests join us for a welcome party on Friday night so that we could mingle and catch up with them because our reception just flew by.
What advice would you give another bride/groom planning a wedding? 
Chill out!  I am very type A and worry about everything!  I wish I relaxed a little bit more and enjoyed our time being engaged, rather than stressing about the wedding.  The planning takes several months but the marriage is what you're in it for and that lasts a lifetime.
Did you do an engagement session or a bridal portrait session?  Would you recommend it to another bride/groom?  We did not but we did invite Ellen to photograph our Rehearsal Dinner boat cruise that we invited all of our guests to.  I was so happy that we did and they turned out to be some of my favorite pictures because it showed all of our love ones very casual, having a blast and enjoying the water.
What do you wish you had done differently on your wedding day?  Honestly, the day was absolutely perfect and I wouldn't change anything.  Looking back, there were probably little expenses here and there that I could have cut because they went unnoticed (like the killer Kate Spade heels I bought, then ended up wearing flip flops).
Name one of your favorite images from your wedding day and explain why it is your favorite.  There are 2 that I absolutely love.  The first is as we were coming back down the aisle as Mr. and Mrs. Pezley and I wrapped my arm around Dave and laid the biggest kiss on him.  My veil was flying in the most perfect way (in fact, it fell out right after that).  I love how deeply we are kissing and how happy we look, even though we aren't even looking at the camera.  I still remember the way I feel when that picture was snapped.  I also love seeing all of our guests in the background, the beautiful blue ocean and the gorgeous day that we had. Pic was KelDav-15-360.JPG.  The other picture is this amazing sun set and us looking at each other.  I have never seen a sunset as beautiful as I did that night.  About 6 months before our wedding, we lost Dave's father to a battle with cancer.  I know that he had something to do with that amazing weather and sunset we had.
Is there anything you'd like to share with readers about your wedding day? 
Our guests represented 27 states!  They all came to the beautiful crystal coast to share in our wedding festivities.  I am originally from New York and my husband is from Ohio, we have moved around a bit and now live in Cleveland, OH.  Our wedding was such an amazing collection of friends from every part of our lives.
Want to see more images from Kelly and David's full gallery?