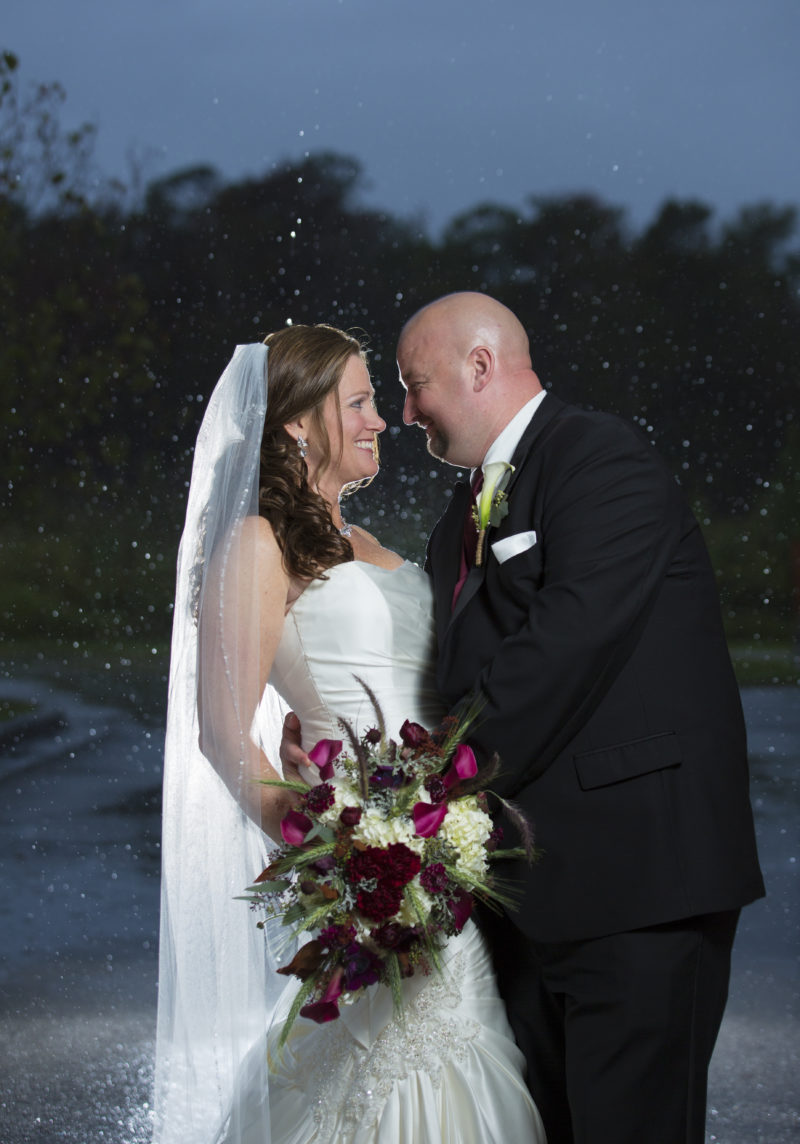 What was your favorite part of the wedding day?
Seeing my father's and my fiance's reaction to seeing me in my dress for the first time that day.  Neither had seen me in the dress or knew what the dress looked like and since they are the two most important men in my life, this was important to me.  It was as emotional for me as I think it was for them.
What surprised you about your wedding day?
I don't like being the center of attention, and I knew all eyes would be on me for the ceremony.  That, in and of itself, terrified me!  But, when the time finally came, I was so focused on me and my fiance and being in that moment together that the nerves disappeared and everything else just fell away and the moment truly became just about us.
What advice would you give another bride/groom planning a wedding?
Go with your gut!  Be accepting of others opinions and ideas – sometimes they'll bring up really good thoughts that you haven't considered, but if it isn't what you want – don't be talked into it.  That goes for the dress down to the smallest detail!  And pick your vendors carefully. If at any time you start getting doubts about a vendor, don't be afraid to walk away, even if it costs a few bucks to do so.  Better to walk away and get with someone who you are comfortable with and trust than to be stuck with someone who, in the end, doesn't deliver what you want – including how they interact with you/your wedding party.
Did you do an engagement session or a bridal portrait session? Would you recommend it to another bride/groom?
We did an engagement session – and yes, I would absolutely recommend it.  Other than a phone call and looking at Ellen's website, we had never met or worked together.  Having the engagement session gave me a huge level of comfort with her, and I knew that we would work really well together on the day of the wedding – which we did!
What do you wish you had done differently on your wedding day?
I wish I had built in more time to spend with my bridal party.  We were all so busy with hair and make-up and such that we didn't really get a chance to just sit around and enjoy being together as a group before the craziness of the day unfolded.
Name one of your favorite images from your wedding day and tell why it is your favorite.
It was raining after the ceremony, so outside shots weren't in the cards for us. But, our location had a portico so Ellen set up her stuff underneath it and was able to take some beautiful, unique shots of us outside. I love all those pictures, but my favorite one is of my husband kissing my neck. That picture is not only a beautiful shot, but it is truly us being who we naturally are – goofy and silly and fun.
Is there anything you'd like to share with readers about your wedding day?
Hopefully, you only get married once.  So think about that one thing you always wanted to do for your wedding since you were little, and do it!  I had always wanted a bagpiper to play the processional/recessional music for the ceremony.  The extra money I spent for it was absolutely worth every cent and it made my "dreams come true!"