With small, intimate weddings, you can either choose a smaller version of a traditional wedding cake, or you can be creative and go with a more unique dessert that reflects your taste and personality.  Let your dessert choice help create a wedding that tells your story.  Below are some ideas and links to some of my favorite dessert vendors in the Crystal Coast area (Emerald Isle, Beaufort, Atlantic Beach, Morehead City).
Traditional Wedding Cakes
| Cake Diameter | Servings |
| --- | --- |
| 5 inches | 6 |
| 6 inches | 10 |
| 8 inches | 20 |
| 10 inches | 30 |
If you want a traditional wedding cake, but don't need to feed many people, you can  just order the size you need.  Here is a general guide for how many people each size feeds.  Each of these can also be a tier in a multi-tiered cake.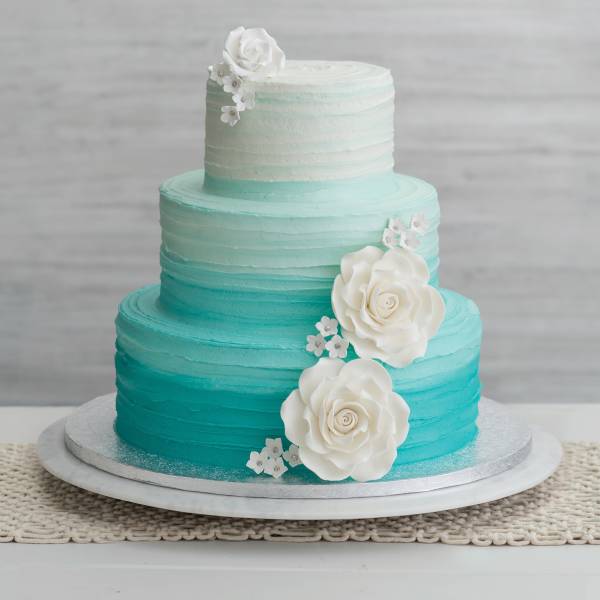 The most recommended wedding cake maker in our area is Mrs. Vingerber's Sweets. However, if you are looking for something that is economical but still delicious, you should check out the bakery at our local Publix in Emerald Isle.  Publix needs a four week lead time for multi-tiered cakes but only one week for one tier.  They have a variety of styles, some of which are coastal themes.  You can choose from many flavors, including red velvet and carrot cake.  They will even deliver it to you for an extra charge of $30.
If you don't require a traditional wedding cake, cupcakes can be a simple but festive option.  We have a local winner of Cupcake Wars in Morehead City, Happycakes.  Or, you can get cupcakes from Publix or Walmart.  If you want a coastal vibe, consider adding a chocolate seashell on top.
If you are a cheesecake lover, check out the over-the-top cheesecakes at Sweet T's Cheesecakes.  They are a local favorite and sure to wow your guests.
Gourmet Cakes and Desserts
Sugarloaf Island Bakery in Morehead City is the place to go for the most delicious and unique cake flavors.  Chef Will loves a new idea and will create something special for you.  If you want a beach theme, he has a cool effect for sand on cake tops that uses brown sugar, graham crakers, and gold dust.  I love everything he does, but his cake writing isn't the neatest, so I would avoid wording in the decorations.  He needs one week of lead time in the busier summer months. 
If you have a smaller wedding, why  not have a special dessert made by a friend or family member?  Maybe it could reflect your heritage or ethnicity.  Maybe the homemade dessert just holds meaning for you.  This adds a deeper level of intimacy and emotion to your wedding.
Adding a sign may help others to understand the significance of your dessert.